THE FJORDS OF THE DODECANESE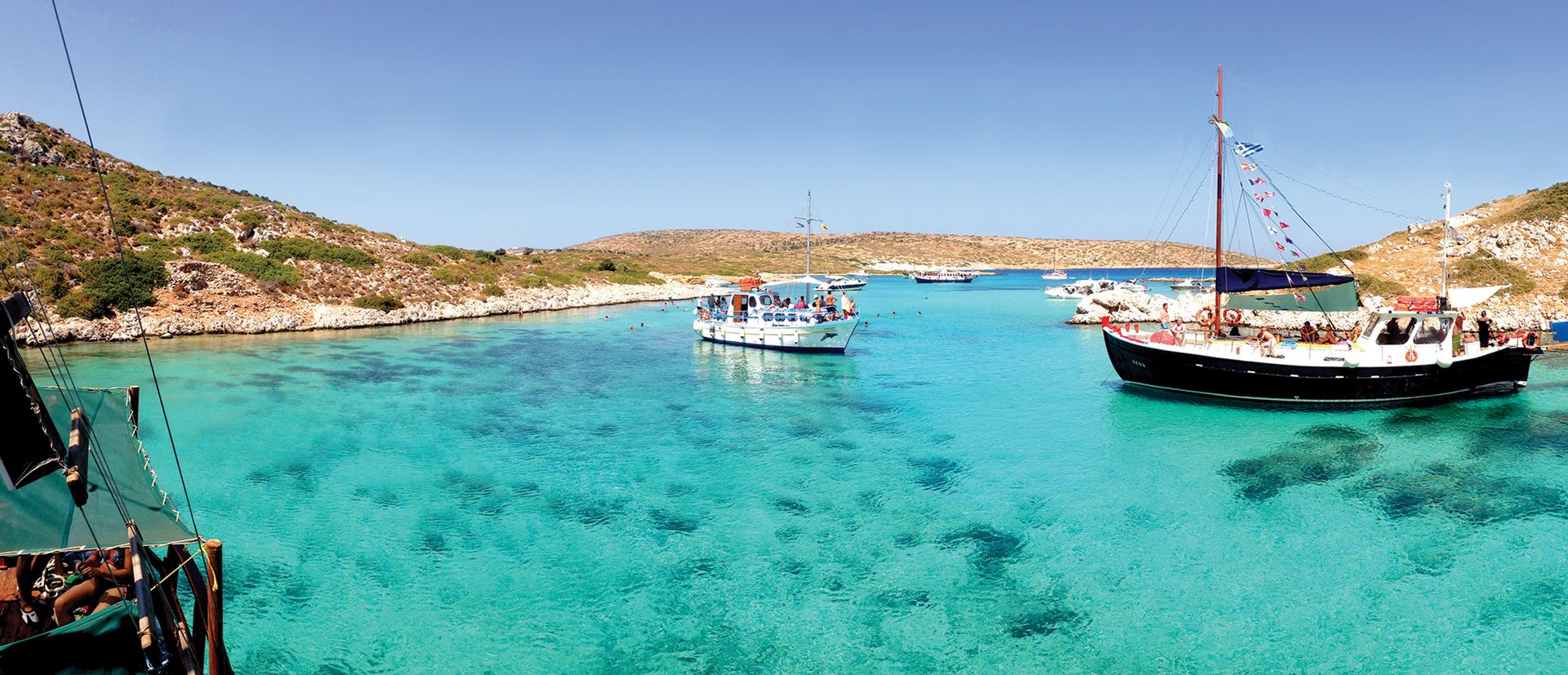 Arki is the biggest island of the outermost group of small islands located north from Lipsi island. It is a land with longstanding history and special, pure beauty. A solitary island with 40 residents of 6,6 s. km., ideal for those who seek absolute serenity and relaxation. You can visit it on a day trip or for few day holidays and combine swimming to the close by islands, such as Marathi. The tradition and simplicity of nature and its residents will enchant you from the very first moment. 
Arki island along with the neighbouring islets belong to NATURA 2020 network, as many species of biotopes have been recorded there and become an important area for birds of Greece. The calcareous rocks of the Aegean predominate at the scenery along with many sea caves. The wild fauna of the island group is completed by the hares and partridges, while Caretta Caretta turtle and the Mediterranean seal appear often in the island. 
Hiking in the island
You can tour the entire island on foot.  Enjoy a ten minute walk to the top of the hill, over the harbour and admire the picturesque church of Panagia Pantanassa, the oldest church in the island and the view to the close by islands and the Aegean Sea. Walk a little further and you will reach the ruins of the old Italian observation point and the cave which used to be the shelter of the residents during the bombardments of World War II'. 
 
Walk in the ruins of the castle of Arki
Next to the church of Panagia Pantanassa you will find the ruins of the Castle of Arki dated back at 4th century b.C. In this location the settlement of Acheoi is found during the ancient times while today there are stone rocks of undefined origin. From this point you will get the most beautiful view to the settlement. 
 
Excursions
In Arki you will have the opportunity to make excursions with sea taxis and boats to the neighbouring islands, such as Marathi, Stroggyli and Agrelousa. You can visit the tavernas there and dive to the beautiful and crystal waters. 
Beaches
With many beaches and bays for exploration, the island is distinguished as heaven for sailing as well as for carefree dives!
Tiganakia: the most famous beach of the island with its unique crystal clear waters and its surrounding rocky landscape. It is accessible only from a specific point by car and then by foot.
Limnari: a sandy and very quiet beach, with crystal clear waters located on the north part of the island.
Patelia: the biggest beach on the island, 500 meters away from the settlement located on its west point. The beach has pebbles on the shore and sand on the sea with blue waters.
Local products & delicacies
Feta cheese
Xinomizithra
Τraditional cheese pie
Kid
Sweet pouch