THE ISLAND OF PYTHAGORAS AND THE TUNNEL OF EUPALINOS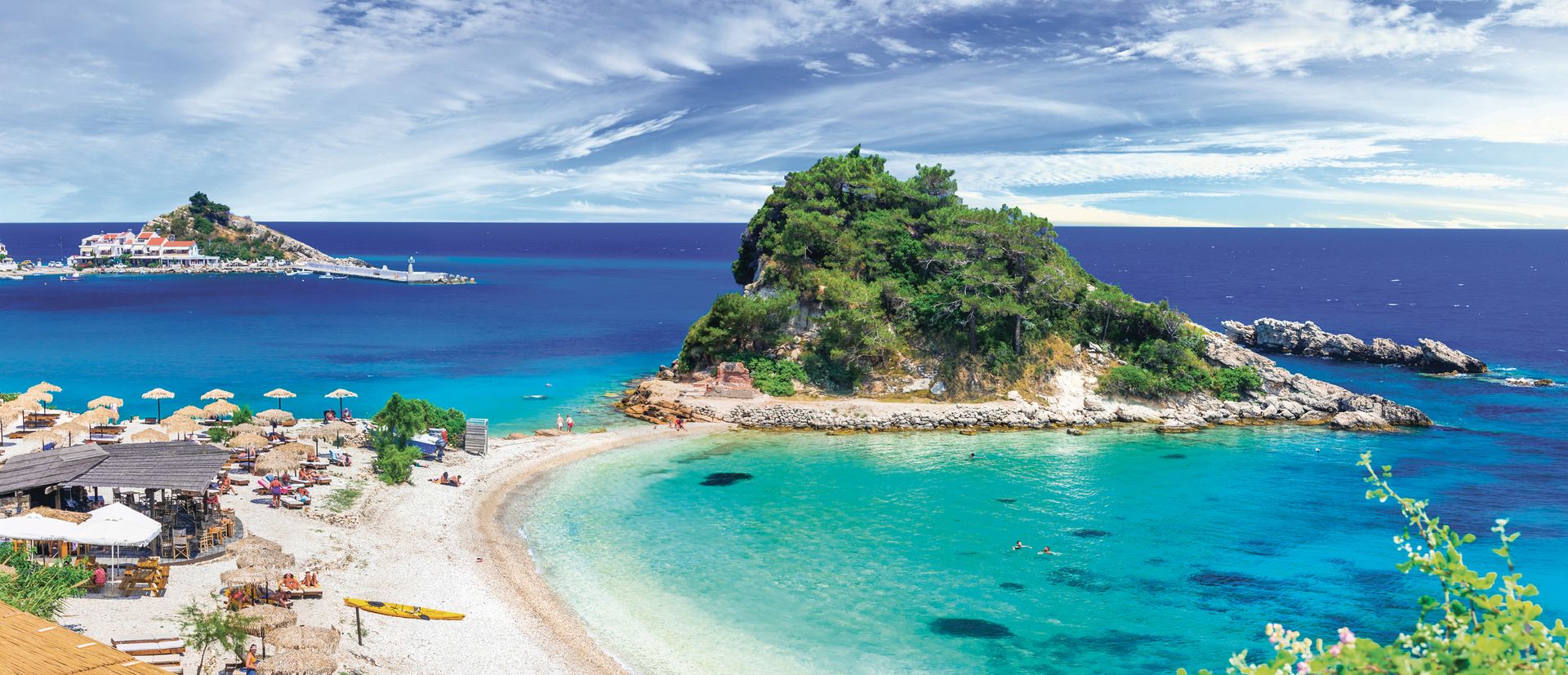 Samos, one of the most beautiful islands in Greece, is the gem of East Aegean famous for its verdant natural environment, the picturesque fishing villages and the amazing beaches. It holds a prominent position at the global map due to its famous men who affected modern science as well as due to its rich cultural heritage and its fertile land. Samos is a big island that has something to offer to everyone: from great beach resorts up to rustic villages, forests and interesting locations. 
A touch of mythology
Dionysus had a fight with the Amazons who were hunted and found shelter in Samos. Then the God asked help from the island's residents in order to extinguish them. The locals helped him and in order to thank them he taught them how to grow vines and produce wine. He also gifted them the vine that produces the famous muscat grape, known for its taste and aroma. 
Tunnel of Eupalinos: The miracle of ancient Greek engineering!
The "eighth miracle" of ancient times, as it has been characterized so many times, the Tunnel of Eupalinos, a tunnel of 1.036 meters, served as an aqueduct of the city and receives global admiration due to its constructional completeness. Its special characteristic is that it was opened at the same time in two sides of the mountain. The two tunnels met at the middle of the course with absolute accuracy!
There are three routes to select depending on the distance you want to cross and the level of difficulty. 
Wear your helmet and trainers, pick which route of the three you will follow and get ready for a unique experience!
Discover the Cave of Pythagoras
The cave of Pythagoras is located at the eastern hills of Kerki Mountain. The access is difficult as the route becomes very steep as you approach the caves. However, the beautiful scenery at the end will reward you!
You will also see two small churches, Panagia Sarantaskaliotissa and the church of Agios Ioannis. There is a 300 meter path that leads to the caves. This cave was used by Pythagoras as a shelter, to mediate without disturbances on his philosophical issues. 
Waterfalls of Samos
Samos waterfalls are a magic scenery with paths, running water, lush vegetation, bird tweeting and serene atmosphere! In Potami area you will find the wonderful waterfalls that surely are one of the best places to be! They are located within a gorge created by the river, which is covered by a forest. 
You will also find waterfalls in Ampelos village. A beautiful landscape of incomparable natural beauty, where nature looks like a painting!
Cine Rex open air cinema 
Travel through time with a visit to the unique open air cinema that reminds of the vintage films of Finos Film. In Mytilinioi area there is a beautiful cinema named Cine Rex. When you arrive you will be welcomed by the stone arched entrance and the canteen opposite that reminds of old eras. A cinema that serves handmade loukoumades [doughnuts] and pizza!!
The venue is full of plants, and the chairs are equipped with comfortable green pillows and right next to your seat there is a small veranda table. 
With wooden boat to Samiopoula…
Samiopoula is located on the south of Samos and is a unique, exotic, tiny island, ideal for magnificent images and an unforgettable excursion. Just half mile south from Samos, traditional wooden boats will take you there. The distance is relatively small but enough to feel a light sense of escape!
Beaches
Psili Ammos: small windless beach with shallow clear blue waters, ideal for families. Located in Marathokampos area and organized. Beach bar, tavernas and restaurants are available.
Gkagkou: the only beach located in the center of Samos. Calm, clean and shallow waters and organized with umbrellas and sunbeds.
Potokaki: the biggest beach of the island, with pebbles as well as great parts with sand. It provides many options, such as sports or sea activities, beach bar or privacy.
Poseidonio or Moula Ibraim: small beach with pebbles with relatively shallow and turquoise waters and magnificent view to Asia Minor coasts. The beach is relatively organized with few sunbeds and umbrellas and is ideal for families.
Mykali: one of the biggest and most popular beaches of the island with thick pebbles, clear turquoise waters and trees for shade. It is organized and has water sports facilities and cantines.  
Livadaki: a small beautiful bay surrounded by rocks. The gold sand and shallow turquoise waters remind of exotic areas. The beach is organized with umbrellas, sun beds and beach bar.
Tsamadou: one of the most beautiful and most popular beaches of Samos, with pebbles and magnificent turquoise waters and crystal waters. It is organized and has tavernas and beach bar. The eastern tip of the beach is popular to nudists.
Potami: one of the most famous and photographed beaches of Samos. It has pebbles and relatively deep waters. It is surrounded by steep rocks with trees that create one landscape of rare beauty. One part of it is organized with few umbrellas, sunbeds and beach bar. The beach is exposed to north winds.  
Mikro Seitani: a beach of exceptional natural beauty with crystal waters. It is has pebbles and it is isolated without any facilities. Accessible by a path or a boat.
Megalo Seitani: one of the most famous and beautiful beaches of the island. The rich vegetation, crystal clear turquoise waters and the golden sand compose a truly impressive scenery. The beach is not organized and access is being made by foot or by boat.
Tsampou: a beautiful, clean beach with big pebbles and turquoise waters surrounded by steep rocks. It has umbrellas, sunbeds and it is exposed to north winds. 
Local products & delicacies
Kampounia (green sprout by fresh onions)
Samiotika mpourekia
Giaprakia (stuffed vine leaves) 
Keskeki (traditional dish with meat made in big celebrations)
Xerotigana
Moustalevria
Katades (traditional kourampiedes)
Tachinopita
Starozoumo (sweet cream with boiled wheat and tahini)