One of the greatest pilgrimage of the Dodecanese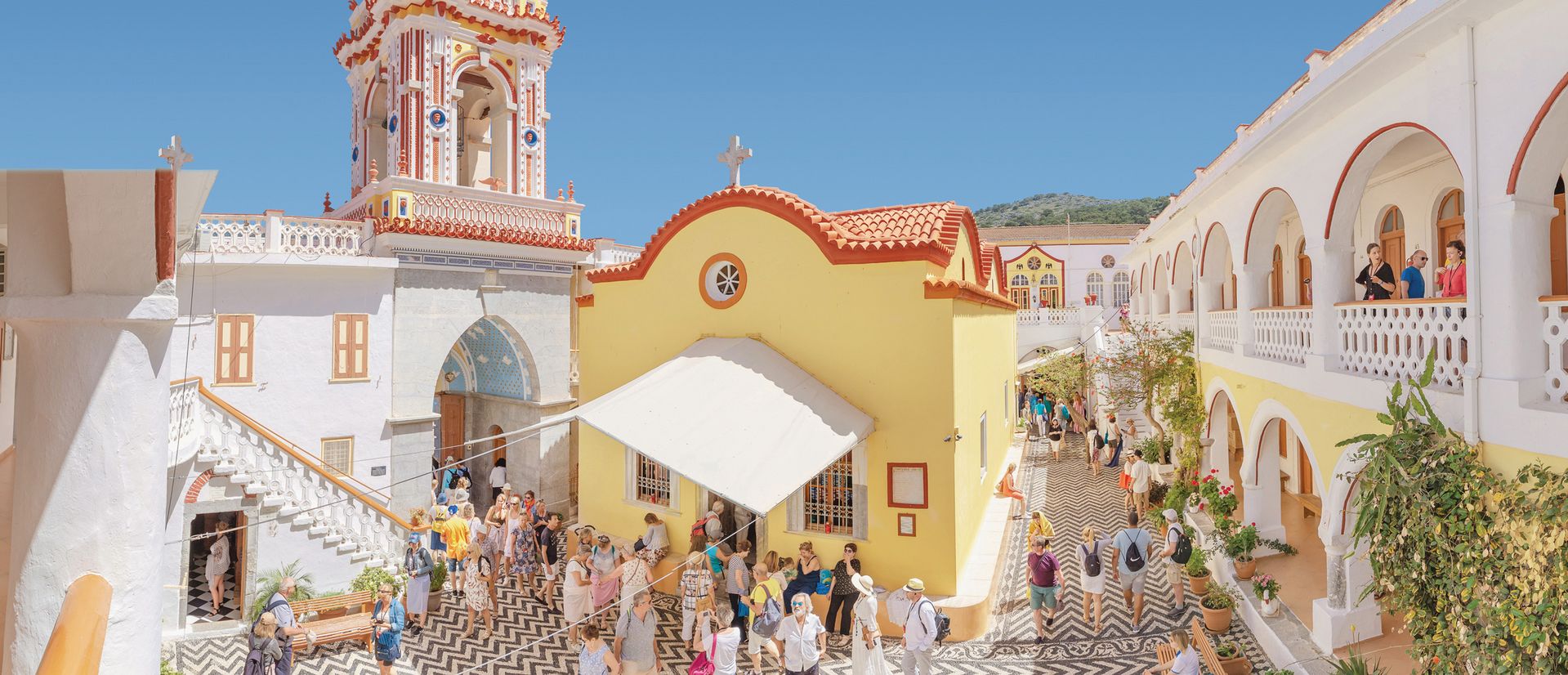 One of the greatest pilgrimage of the Dodecanese 
The Holy Church of Panormitis is located at the southwest side of Symi, at a small, beautiful and serene cove with the ascetic rooms and the imposing gate. It is one of the greatest pilgrimages of the Dodecanese, with national and global orthodox range. The gem of the Monastery is the masterpiece bell tower at baroque and rococo style which is considered one of the most beautiful in the Aegean. Its bell weighs more than three tons! The black and white impressive pebble of the yard and the wooden curved altarpiece enchants visitors and pilgrims. 
The icon of the Saint is really impressive. The silver lined full body representation of Panormitis Michail who is imaged with an armor and a sword like a winged soldier, causes awe and reverence. 
Panormitis who is known for his miracles, attracts many worshippers from all over the world, who visit him either to thank him or because they have heard of his miracles. Worshippers most times gift to the monastery brooms, in order for the Saint to "sweep their sins", and that's why you will see people sweeping in front of his icon as an oblation.
Moreover, many worshippers place small notes into bottles with their "oblation" and the difficult situation they are facing. Those who cannot travel to the island and do not have access for a pilgrimage, throw their bottles in the sea believing that the Archangel will guide them to the cove in front of the Monastery. Such bottles arrive from all over the world at the shore of Panormitis and the Priests of the Monastery send back a thank you letter to the sender. This stands as a proof that the oblation reached its destination. The Saint is celebrated on the 8th of November and many people travel to worship him. 
In the Monastery there are two museums, one religious and one folklore. The museum of ecclesiastical art (religious) has various exhibits such as priest vestments, icons, epitaphs, ecclesiastical containers and valuable objects that have been gifted to the Saint, as well as historical value relics, such as a letter of Ioannis Kapodistrias addressed to the monks and one gold epitaph produced in Russia around 1850. The folklore museum includes significant items of the folk culture of the island, as well as objects from the Monastery, such as oak wine barrels, pieces of an old distiller, as well as a handmade loom.
The Monastery's library is also very significant, with post byzantine manuscripts and publications of great interest, while the monastery operates a traditional oil press, traditional distillery and wax factory. 
You can visit the monastery either by car, from Gialos in Symi, following a beautiful route though a pine tree forest, or by ship day trips that arrive to the monastery. Don't miss visiting the traditional bakery of Panormitis for the traditional "tourtes" (cheese pies) as well as various other fresh local products.