Kastelorizo Island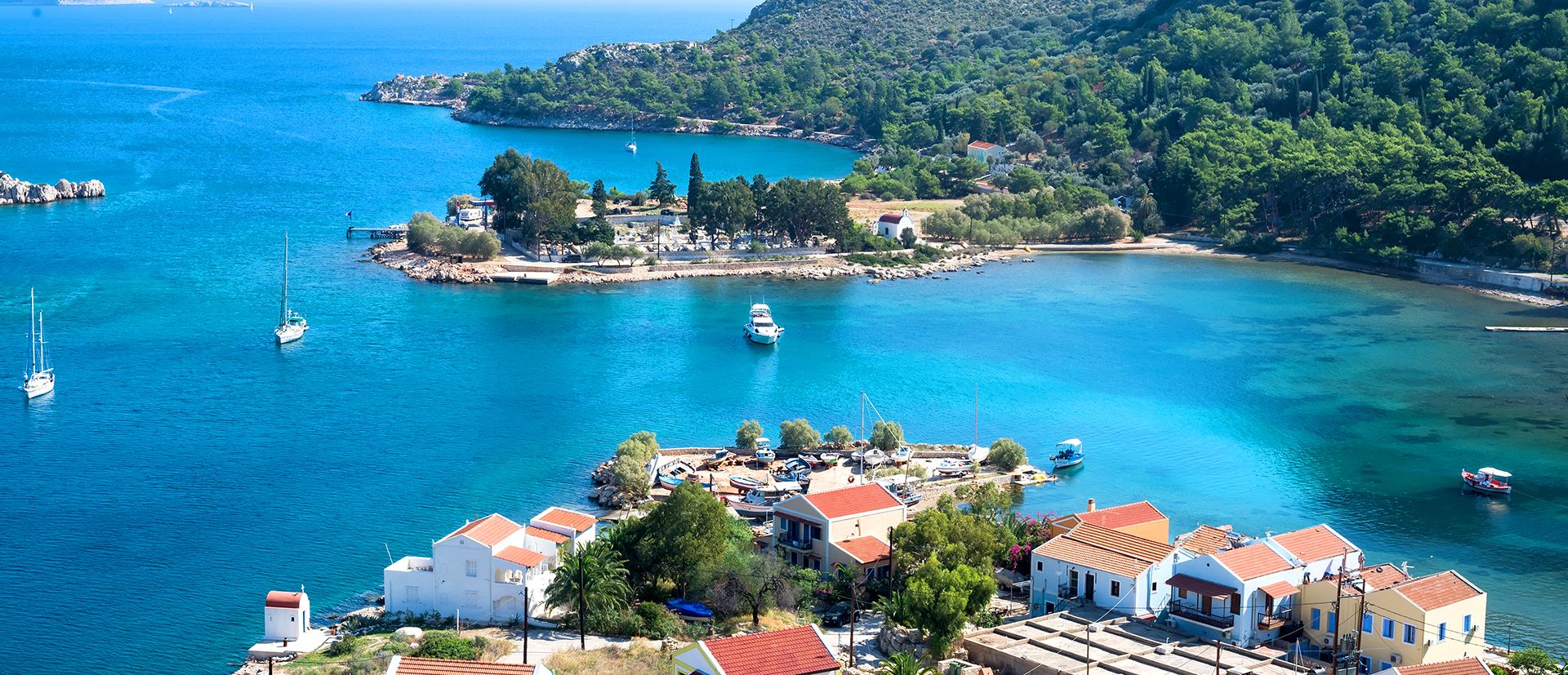 The island Megisti, better known as Kastelorizo, is the easternmost part of Europe. It is only 2 miles far from the Turkish coast. According to the most prevailing version, the island was named Megisti (the biggest) as it is the biggest of a group consisting of fourteen small islands, the best known of which is Ro.
The name of Kastelorizo has western origins and it means "red castle". From the archaeological findings we can conclude that the island has been inhabited since age-old years. It was first inhabited by Dorian races and it later was conquered by the Persians. Since 4th century BC the island has been part of Rhodes state. There was growth of naval activities that has been recorded since the medieval period. In the years of the Knights' rule the island belonged to the Knights' of Rhodes state. In 1523 Kastellorizo was conquered by the Turks and was part of the privileged islands of Archipelagos. It participated in the Greek independence revolution of 1821 to return to the Turkish rule. In the years of the 1st World War the island was conquered by the French and then the Italians. During the two world wars Kastellorizo was bombed which caused a lot of damage and as a result a lot of the inhabitants had to emigrate elsewhere, particularly Australia. In 1948 the island joined Greece.
Kastro

Kastro (west of the town - 4th century BC, or Hellenistic period): Built on an area of raised ground, with two votive inscriptions in the walls (2nd century BC) dedicated by the military administrators of Rhodes known as the epistates.
Blue Cave
The light of the sun, refracted through the sea, is reflected in the interior of the grotto, thereby producing a dazzling blue colour. The cave can be visited only by boat and, since the entrance is barely one metre high above sea level, only under calm sea conditions. The best time of the day to visit is early in the morning, when the sun is still low.
Aghios Georgios 
Church of Aghios Georgios tou Vounou: Built on elevated ground the church resembles a castle and is reached from the harbour by 315 steps. The sanctuary was renovated in 1759 by the Blessed Anthimos Kourouklis, from Kefallinia. Within the church there is a hole which leads down into a cave and catacombs with a well and a wall painting of Saint Haralambos. Next to it there is also Aghios Ioannis tou Vounou.