Kalymnos Island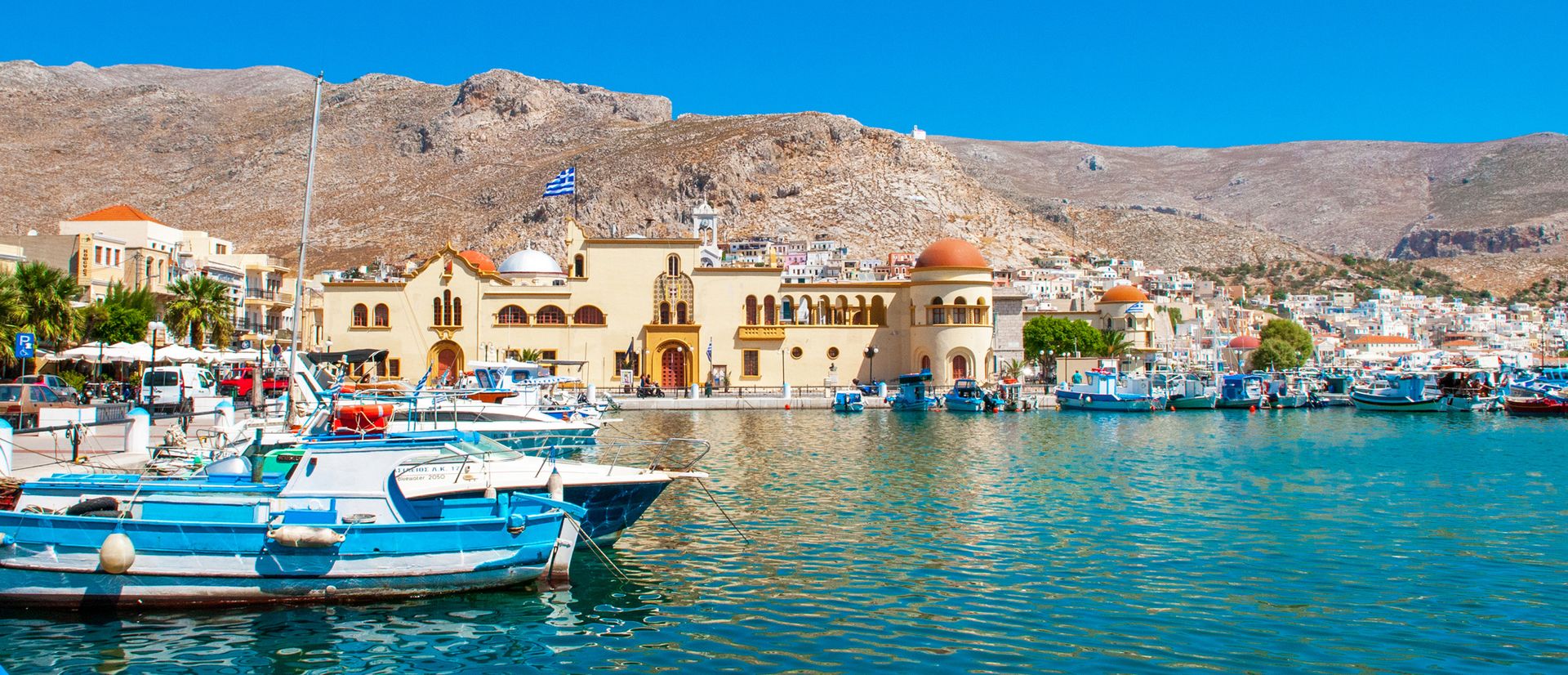 Between Kos and Leros lies Kalymnos - known as "the island of sponge-divers" but also "education lovers" - the fourth in size island of Dodecanese. There is a view that the island took its name after "good water". Ancient sources (Stravon, Diodoros Sikeliotis) indicate that the earlier inhabitants of the island were Carians.
Pothia
The capital of the island exhibits perhaps the biggest concentration of neo-classic houses per square kilometer in Greece. Most of the houses are big, with two floors and tiled roofs, with architectural and decorative elements of exquisite style and belonged mainly to wealthy ship owners and merchants. Most of them are still inhabited. In the less wealthy neighborhoods of Ag.Triada and Ag.Mammas, Ag.Nikolaos and Hora we can see the traditional two-floor house. The bright colors and the characteristic house and road arrangements of Marasia (poorer neighborhoods on both sides of Pothia) show wisdom in planning and economy in materials and land.
Marine and Folklore Museum
Here, the age-old naval profession as well as many items of naval art and sponge diving are exhibited.
Valsamidis Museum of Marine Findings (Vlyhadia)
It exhibits rare marine species, tools and sponge diving equipment as well as archaeological findings of particular value from wreckages, most of them collected by the owners.
Traditional Products
The honey has been produced in Kalymnos since at least the classical era and has been mentioned by Pafsanias as one of the best honeys of antiquity for its thyme flavor and its therapeutic qualities.Other characteristic products are the traditional barley bread roll (an ancient product that is the base of the famous "mirmizeli" salad), fresh cream cheese made of milk from local sheep and goats, produced at picturesque Vathis, at picturesque Vathis and rural Argos, the sweet red wine that tastes like visanto, Laura's wine at Ag. Mammas and the excellent olive oil.