THE ISLAND OF KALYDNOS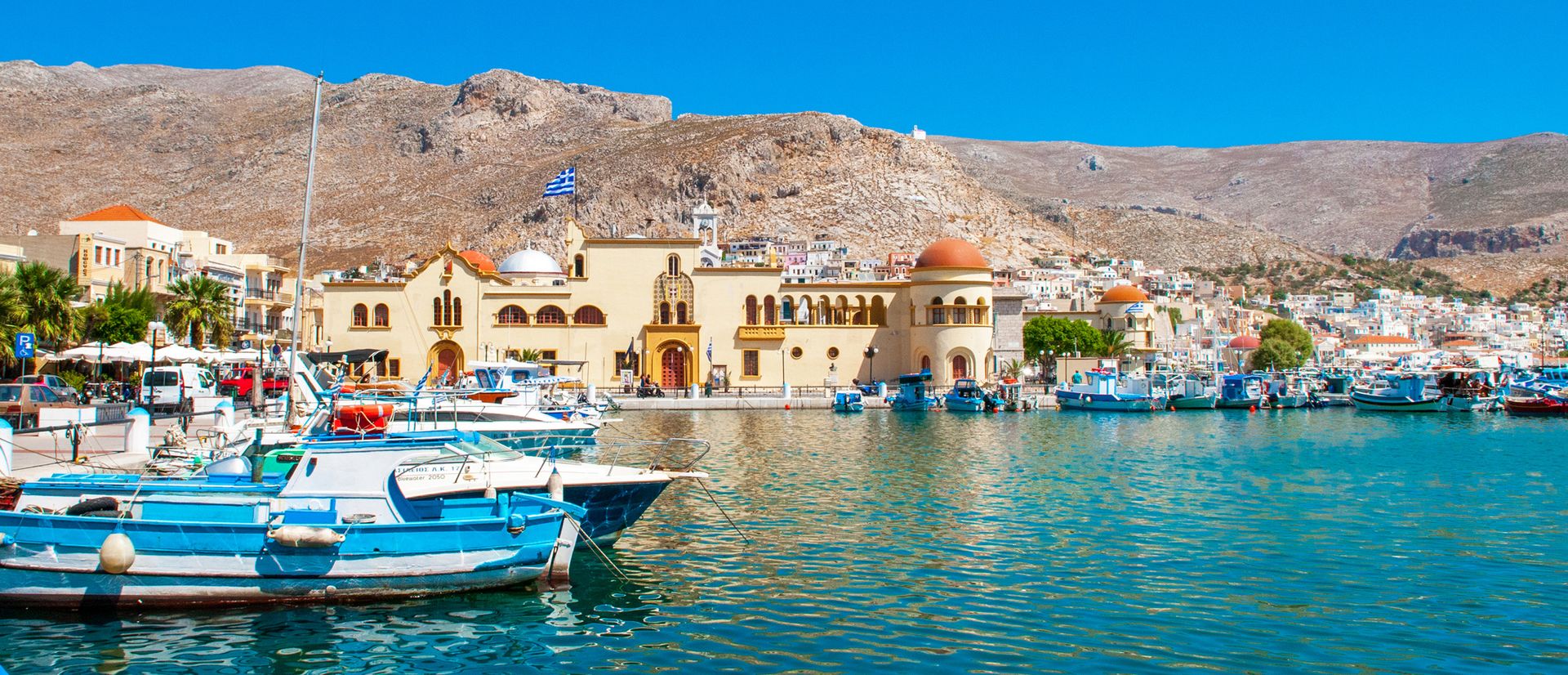 Kalymnos is a group of islands, as it is surrounded by the small islands of Pserimos, Imia, Telendos and Kalolimnos. An island that combines the charm of steep peaks with lacy shores and crystal waters with rich aromatic herbs. This island flourished the art of sponge diving, while it currently offers peaceful and alternative holidays with its wild natural scenery and its enchanting seabed. 
An ideal destination for those who seek quiet holidays, as well as for the lovers of adventure who want to discover bottomless deep seas with divings at a seabed with ancient shipwrecks, climb eminent impressive rocks and steep peaks. A land with beautiful beaches, hiking routes, enchanting caves and picturesque island settlements is ready for you to discover!
A touch of Mythology
Uranus and Gaia had many children, the Titans, the Giants, the Cyclops and the Ekatocheires. Uranus was afraid that one of his sons could dethrone him and so he decided to throw them all in Tartarus.  However Kalydnos, one of his sons, fell on a piece of land that emerged and formed an island. The island was named "The island of Kalydnos". If someone looks the island from above, he would notice two huge mountains and two small valleys which are said to resemble Kalydno's legs. Kalydnos, according to the myth, was originally the god of Hades and later became god of the sea and so the island was named after him.  
Meet the Princess of Telendos
If you look closely the opposite mountain, you will see the face of a girl laid down formed, a magnificent image, as if it was manmade. There are many myths about how this face was formed or what it actually is. One of them says that she is the beautiful daughter of king of Pothaia, who drowned in the sea due to her unfulfilled love for Andronikos, the prince of Kasteli in Kalymnos. The beauty stretched before you will take your breath away!
Walk in Telendos and Pserimos
Pserimos and Telendos are two Greek islands that you may have not even heard of them before. Now it's time to meet the secret treasures of Aegean. Your holidays in Kalymnos can be combined with an excursion to those neighbouring islands. 
You can reach Telendos from Myrties by boat within just 20 minutes. You will be thrilled by the crystal clear sea, fresh and traditional food and the absolute serenity of the scenery. The complete lack of roads and cars make the landscape even more magical!
With a ship from the city you will reach Pserimos within an hour. There, you will be welcomed by Avlakia, the only village in the island. In Pserimos you will find the best beach of the island stretched with white sand, shallow waters and no wind at all.
Visit to Vathy in Kalymnos
A visit to Vathy is the ideal choice for a beautiful and relaxed day at an exotic place. An oblong sea cove, with verdant landscape, surrounded by rocks composes a unique scenery, a corner of prestige and serenity in the island. Along with the fish boats and peaceful waters you will enjoy moments of absolute relaxation! In Vathy don't miss the chance of renting a canoe-kayak to take an unforgettable ride at the crystal waters and feel the magic of this land! 
Discover the secrets of the sea at the Marine Life and Findings Museum 
The Marine Life and Findings Museum is located at the beach of Vlychadia and presents great interest, since it exhibits findings from thousands of divings: fish, shells, star fish, corrals, tortoises and shark species and many kinds of sponges. A museum's wing exhibits findings of World War I and II, such as pieces of planes. 
Nautical Museum: meet the island's history 
The Nautical Museum of the island presents the touching nautical tradition, the history and methods of sponge fishing. Sponge fishing tools and objects from ancient shipwrecks are found there and wait for you to meet them! Moreover, in this Museum you will have the opportunity to discover the diving techniques and see the equipment of sponge divers and maritime instruments. 
Beaches 
Masouri: the most famous beach of Kalymnos located just 9km. from Pothia. Wide sandy beach, crystal clear waters and view to the beautiful Telendos. Umbrellas and sun beds available.
Kantouni: one of the most famous beaches of the island, with thin, gold sand and shallow waters. It is in Panormos settlement, 8,5 km. from Pothia and is organized.
Linaria: located right next to Kantouni beach and it is sandy with small pebbles. A quiet beach, ideal for families.
Platys Gialos: one of the most famous beaches of Kalymnos, located close to Panormos. Black sand and blue waters.
Therma: located close to Pothia. The beach has turquoise waters, pebbles and rocks and it is ideal for diving. It is organized and provides umbrellas, sun beds and restaurant.
Vlychadia: 2 beautiful beaches located close to Pothia. One of them has pebbles and the other one sand, while both of them have relatively shallow waters. Here you will find tavernas, cafes and diving center, where classes are available for all ages.
Myrties: one of the most beautiful beaches of the island, 8km. away from Pothia. It is 700m. long with pebbles and shallow waters. It has umbrellas, sun beds, cafes and restaurants and is ideal for families.
Arginonta: located at the north-west side of the island and 17 km. from Pothia. It is a beautiful beach with turquoise waters, round pebbles and trees surrounding it. Umbrellas and sun beds are available. 
Local products & delicacies
Eptazymo (traditional bread with spices, ouzo and anise)
Mououri (lamb baked wood oven)
Spiliano (a preservation technique of bubble shell in sea water)
Myrmizeli (Kalymnos Salad)
Yristes (local doughnuts)
Fylla (stuffed vine leaves)
Octopus patties
Kouloues (rusk bread)
Troulli (traditional goat's cheese)
Galaktoboureko